Description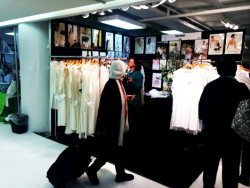 Louise Mitchell cotton sleepwear 
has sold to luxury stores worldwide
Harrods    London
Galleries Lafayette  Paris
Tackashimaya  Tokyo
Anichini Linea Casa New York
Ludwig Beck   Munich
David Jones   Australia
Smith and Caughey New Zealand
Women's cotton  Ribbons of flowers is a classic cotton nightgown which has been in the Louise Mitchell sleepwear collections for years. ling and intricate hand embroidery.
Front bodice
Fine vertical pin tucks fall luxuriously down the front bodice to the waist. These pin tucks to the waist allow for extra give over your tummy and more room in the skirt.
But keep in mind that cotton nightgown Ribbons of flowers does not have the extravagant volume of cotton fabric as our smocked gowns,such as Caroline, Lola, Stephanie and Bouquet of flower.
Never forget beauty.
The bodice pin tucks are sewn in groups of three. Between these groups our skilled hand embroiderers have stitched sprays of flowers and roses and fine satin stitched  white bows and ribbons. Ribbons of flowers is a very pretty cotton nightgown.
There is a charming hand embroidered bouquet of roses, daisies and stems on the skirt. The bouquet is tied with a hand embroidered white satin stitch bow.
Maternity
Front opening with mother of pearl buttons goes almost to the waist, so this cotton nightgown is good for new mothers.
Length is 115-120 cms  45-48 inches. Comes to mid calf on Louise's clients. Our model is 177cms 5 ft 8 inches.
Sleeve is cap which is wonderful in summer.
Louise's pure soft white cotton.
Louise's pure cotton has become a signature of Louise Mitchell. Her cotton is a favourite with clients for its breath ability, lightweight and long lasting properties and luxurious soft feel. Her clients especially love it;s softness.
Showing in Fashion Fairs in London, Paris and New York
Women's cotton sleepwear Ribbons of flowers has been a classic in Louise's stores for years and a favourite when she has shown her sleepwear collections in Sydney, Paris, London and New York.
Her pure cotton and silk  sleepwear has sold to luxury stores worldwide, Harrods in London, Galleries Lafayette in Paris, Anichini Linea Casa in New York, Takashimaya in Tokyo.
Your cotton sleepwear has been designed by Louise Mitchell in her Sydney studio.
Louise Mitchell's cotton has been selected for softness, breath ability and strength.
Garments have been lovingly embroidered by hand with Louise's designs.
All garments have French seams. This is double seaming so no raw edges.
Splits in side seams for easy movement are reinforced so do not run.
Louise recommends hand or machine washing in a bag with soft powders or liquids.
There is no need to iron. Just the feeling of soft cotton next to your skin is all you need.
Review from Eve USA "Your gowns are amazing. Overtime and with washing your cotton gets so soft."
Easy to pack and light to carry, Louise's cotton sleepwear loves travelling and holidays.