Blue Jasmine Collection
The Blue Jasmine Collection
Pure Cotton Nighties, Nightgowns and Robes with Blue embroidered Swiss Dots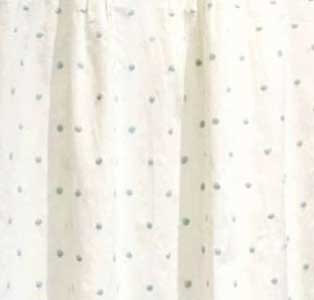 The Swiss Dot design was first created in 1759 in StGallen Switzerland .St Gallen has been  a textile centre in Europe from the 16th century.The Swiss Dot design was traditionally used for bridal  and baby collections.Today Swiss Dot is extremely popular in the fashion industry.White, cream, pink, gray and black dots are the most common dot shades
Louise Mitchell pure cotton nightgowns, nighties, pajamas, wraps and robes have sold to luxury stores and boutiques worldwide.
Harrods LONDON Galleries Lafayette PARIS Daimaru and Takashimaya TOKYO
Ludwig Beck MUNICH Anichini Linea Casa NEW YORK
Smith and Caughey NEW ZEALAND David Jones AUSTRALIA
We are an Australian website. All payments are in Australian dollars.
Your payment will show on your credit card in your currency.
The Australian dollar is worth approximately USD 75 cents.
Showing all 6 results