Description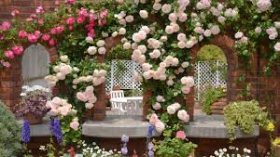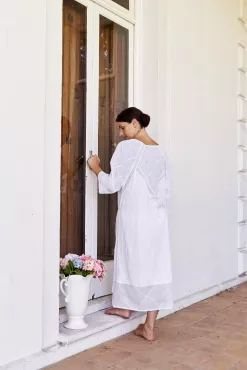 Louise Mitchell cotton sleepwear 
has sold to luxury stores worldwide
Harrods    London
Galleries Lafayette  Paris
Tackashimaya  Tokyo
Anichini Linea Casa New York
Ludwig Beck   Munich
David Jones   Australia
Smith and Caughey New Zealand
Luxury women's cotton sleepwear Rose Trellis.
Rose Trellis is a soft pure cotton nightgown from the Louise Mitchell heirloom collection. She has 3/4 sleeves, reinforced side splits  and exquisite pink and white hand embroidery on bodice, back, 3/4 sleeves and hem.
Body shape
The A line shape of Rose Trellis is slimming and elegant. You can sleep in her and wear her as a cotton summer dress in the street and to the beach. The cotton is super soft and has fine pin tucks sewn vertically down the front and back. These pin tucks add texture and pattern.
Splits in side seams.
We have strongly reinforced the splits in both side seams. You will not find these splits running. They give your legs freedom of movement as Rose Trellis is a straight cotton gown with no gathering to add volume to the skirt.
Bodice and back beauty. Heirloom hand embroidery.
The front bodice, deep V back, 3/4 sleeves  and hem are in cotton organdy.These cotton organdy sections  are intricately hand embroidered in white chain stitch and pink roses and leaves. The design is like a trellis rose garden. A superb large classic white bow is stitched at the base of the V back. The effect is artistic and refined.
Louise's super soft pure cotton.
Her pure cotton has become a signature of Louise Mitchell. It is a favourite with her clients for its breath ability, light weight, long lasting qualities and softness. A US client from Atlanta emailed "Your cotton gowns are amazing. Overtime and washings they become so soft and comforting"
Light weight for travel
Rose Trellis is perfect for travel and holidays. She is light weight,easy to pack and takes up very little space in your luggage.
Don't send her to the hotel laundry and Louise's migrating birds.
Don't send Rose Trellis to the hotel laundry.The laundresses like her too much. Louise and her colleagues in the Sydney store hear this all the time from her clients who circle the globe like migrating birds.
Sleeves are 3/4 length  and are completely embroidered in the pink and white rose garden trellis design
The length is 3/4 coming to mid calf. 115cms-120cms  45-48 inches.
The front opening is quite deep, almost to waist. This makes Rose Trellis suitable for new mothers. Pearl shell buttons with cotton loops go down the front bodice.
.There is no need to iron Rose Trellis. Just the feeling of soft cotton next to your skin is so wonderful.
Your cotton sleepwear has been designed by Louise Mitchell in her Sydney studio.
Louise Mitchell's cotton has been selected for softness, breath ability and strength.
Garments have been lovingly embroidered by hand with Louise's designs.
All garments have French seams. This is double seaming so no raw edges.
Splits in side seams for easy movement are reinforced so do not run.
Louise recommends hand or machine washing in a bag with soft powders or liquids.
There is no need to iron. Just the feeling of soft cotton next to your skin is all you need.
Review from Eve USA "Your gowns are amazing. Overtime and with washing your cotton gets so soft."
Easy to pack and light to carry, Louise's cotton sleepwear loves travelling and holidays.