Description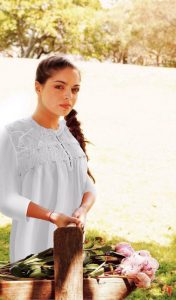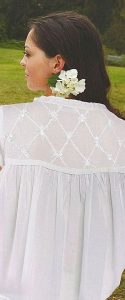 Plus size sleepwear Caroline with 3/4 sleeves loves sleeping with larger ladies, especially as most are gorgeous. Caroline gives comfort and ease across your shoulders and bust with a generous band of white hand smocking in the bodice. She has a generous skirt so your legs can stretch out. Plus size Caroline has listened to her ladies and she knows what they value. Answer. Comfort.
It's your fanny or your face
As the French movie star Catherine Deneuve  once said, "After a certain age you have to choose between your fanny or your face"
Plus size ladies have chosen wisely.
In the first place, Caroline plus size gives comfort and ease with a generous band (9 cms wide)of white hand smocking across the bust. This smocking creates gathering which falls gently over your tummy.
Secondly,there is a yoke across the shoulders on the back and gathers have been stitched into the yoke.
As a result,these gathers allow extra soft cotton fabric to flow into your skirt. This gives you plenty of room over your hips and lets you stretch out your legs. So comfortable
Pretty white hand embroidered bodice.
Louise's mantra "Never forget beauty"
Louise's skilled hand embroiderers have stitched white chain stitch in a criss cross design over the front bodice and back shoulder yoke. White bullion roses, stems and leaves climb  over the chain stitch in a garden trellis style. All done by hand.
There is a front opening with mother of pearl shell buttons and loops. Easy access for you.
Length is 115-120 cms   45-48 inches. Comes to mid calf on most women.
Sleeves are 3/4 length for a little arm mystery. Fall between elbow and wrist.
Louise's soft white pure cotton
is a signature of her brand. Her clients tell her that the more they wash it the softer it becomes. It is well known for its luxurious breath ability and long lasting qualities. But softness is the quality her clients repeatedly tell her is the most prized.
There is no need to iron. Just the feeling of soft cotton against your skin is all you really need.
Plus size cotton sleepwear Caroline has sold to luxury stores worldwide.